Products and Prices
Products and Prices for 2017
All of our Christmas cards are printed on board which has the FSC accreditation which means it is printed on board that is from sustainable managed forests.
Although we call this our school christmas card fundraiser we don't JUST print Christmas cards.  We have found that a small range of other additional products enhances the appeal to parents and increases profits for the school.  As a result we offer four different printed products all of which are based on the artwork from your children.  The four core products, that we produce are:
Christmas Cards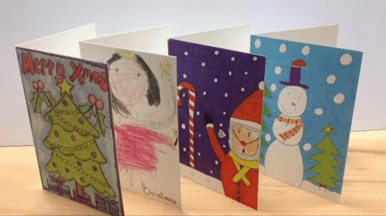 The core product (and always the most popular) are our great quality A6 folded Christmas cards.  They come in packs of 12 cards with 12 white envelopes.  They are printed on the front with you child's design and then the back is printed with the details that you choose (typically the child's name and school name).  We can even print your school logo on the reverse of the card at no additional charge, just ask!
Thank You Cards
A popular option with parents are our thank cards.  Printed on the same quality board as our Christmas cards they come an internal message of "Thank You". Each pack contains 12 cards and 12 white envelopes.  They are printed with your child's design and name.  A great way to encourage your children to write thank you notes for their Christmas presents.
Self Adhesive Gift Tags
Another popular option are our self adhesive gift labels (42 in a pack).  Printed on 38mm x 99mm semi-gloss labels they are a quality addition to our range of products.  Printed with your child's design and name they have plenty of space for addressing gifts even for those written by the smallest of children.
Value Pack
A value pack consists of a pack of 12 Christmas cards, 12 thank you cards and a pack of 42 self adhesive gift tags.
10oz White Printed Mugs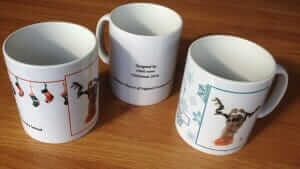 In 2014 we expanded our range of printed products to include 10oz/11oz white mugs.  Have your child's design immortalised on our top quality 10oz/11oz white ceramic mugs.  A great present for grandparents that they will cherish.  Dishwasher safe and packaged individually in their own boxes, they are always popular with parents and grandparents! We have made some substantial changes to our mugs for 2016 in response to feedback from our annual satisfaction survey, read more about our mugs for Christmas 2016 here.
2017 Prices (Updated May 2017)
… our internal processes are highly automated using advanced computer systems to handle the many thousands of individually printed cards we produce every year.
We look carefully at our pricing every year to ensure that we continue to offer amazing value to our school customers.  Our prices are set below our competitors so that schools and PTAs can make substantial profits for their school.  We see ourselves as fundraising partners and will only succeed if we truly help PTAs to succeed in raising material amounts for the school.  We achieve these amazing prices because our production methods are highly efficient and many of our internal processes are highly automated using advanced computer systems to handle the many thousands of individually printed cards we produce every year.
The early bird catches the worm!
Christmas only comes once a year and in November we are at peek production of Christmas cards.
To encourage early ordering we are offering a significant discount to schools and PTAs that want to run their Christmas card project earlier. This helps smooth our production times, improve our turnaround times and will make bigger profits for your PTA. Our pricing for Christmas 2017 will be as follows
| | | |
| --- | --- | --- |
| | Orders received* before Monday 6th November 2017 | Orders received* on or after Tuesday 7th November 2017 |
| 12 x Standard A6 Christmas Cards | £3.00 | £3.30 |
| 42 x Gift Tags | £2.00 | £2.00 |
| 12 x Thank You Cards | £3.00 | £3.30 |
| Value Pack | £7.20 | £7.80 |
| 10oz/11oz Printed Mugs | £4.20 | £4.50 |
* We must have received your paper order forms in our office or you have placed your order for cards online by this date.  Please note that artwork received after our artwork deadline of Wednesday 9th November will be subject to a one-off late artwork scanning fee of £45 (inc VAT) per project.
The above prices including VAT (@20%) and delivery.  Want to find out how much money your school could raise?  Why not try out our interactive profit calculator to see how much money you could be raising for your school with our Christmas cards for schools project.  If you are a school based in the Republic of Ireland then your can view our prices here.
Optional Extras
Our standard service is used by the vast majority of our clients but sometimes people request something more and for this we offer a number of optional extras. These include
Hand Scanning (Using Paints, Pastels, Collages)

Our standard service provides for children's designs to be created using colouring pencil, felt tips and crayons. This is because all of the children's designs can then be safely feed through our automatic sheet fed document scanner. This allows us to process returned designs quicker and keeps the price of our cards low. However we know that some schools would rather create designs using paint, pastels and collages (using all manner of materials). WE CANNOT SCAN IMAGES CONTAINING GLITTER BECAUSE IT CAN RUIN OUR SCANNERS, SORRY!  In these instances we need to scan each sheet "on the glass" and by hand. This process takes considerably longer and so we charge an additional £30 when the number of the hand scanned drawings exceeds 60.

FREE School Logos

If your school has a logo that you would like printed on the reverse of your cards then we can incorporate this for you FREE OF CHARGE.

Custom Interior Message

All of our cards can be printed inside with either "Merry Christmas and a Happy New Year", "Season's Greetings" or blank included within our standard pricing. If you would like a custom message printed inside the cards (it must be the same across all cards and will be printed in black ink) then we can do this for an additional 20p per pack of cards.