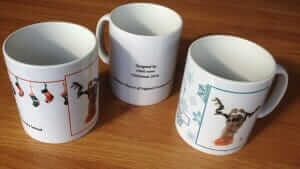 School Mugs Printing
A school mug fundraiser is an excellent and creative artwork project for any time of the year.  Great opportunities to run a school fundraising mug project include:
Specific classroom projects/topics (how about creating Roald Dahl inspired mugs for example?)
Art department projects/work
Perhaps have poems written by the children printed on to mugs?  The possibilities are limited only by you and your children's imagination!
What can be printed on our school mugs?
Pretty much anything! We can send individual artwork sheets that allow your children to create their own designs.  We then take these sheets and scan them into our printing system.  We can then use these images to print your child's own design on to their mug.
Alternatively our school mugs can be printed with photographs (either supplied by the school or the children). If you are looking for a bulk purchase of school mugs printed with your school name or logo then we can also help with that.  Essentially whatever you want printed on a mug, we can help!
About our mugs
We believe that your personalised printed school mug should be something to treasure for years to come.  As a result we use only the best quality basic mugs and then print them such that they are dishwasher safe.  If your child has spent time and effort creating a beautiful design then we want that design to be vibrant, colourful and long lasting.  That's exactly what our printed mugs deliver.
Next Steps
If you need to order an artwork pack for our school mugs then just give us a call. Alternatively if you would like to make a bulk order for mugs showing school logos, names, photographs etc then contact us for our bulk pricing.
Our other fundraising products
In addition to our school mug printing service we also run a series of other fund fundraising projects for schools including personalised fundraising school calendars, printed school raffle tickets and fundraising christmas cards for schools.