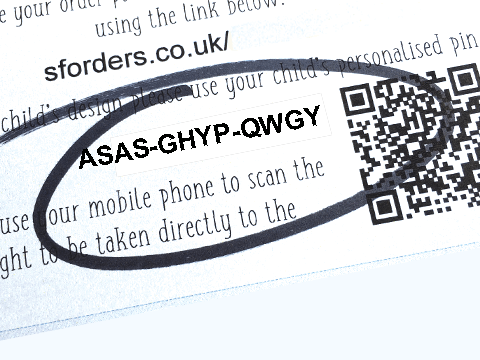 Search for your child's artwork
If you have missed your school's deadline for ordering or you wish to order additional items then you can order directly from DigiPrint Graphics. Please note that any orders made directly through this website will NOT raise funds for your school.
If you are a PTA organiser and need to order additional items then you can do so through your online control panel using the "Resolution Tool".
Ordering your child's cards (You need the UNIQUE PIN CODE from your order form)
To correctly order your child's products
you will need to know their PIN CODE
that is printed on their order form. To ensure you have the correct code, enter the code into the box below and we will retrieve the drawing we have associated with that code.
PIN CODES ARE OF THE FORM XXXX-YYYY-ZZZZ
. Check that this image matches the one your child has drawn before ordering. If you order the incorrect cards by mistake we cannot refund or reprint your order.