"My Family" Mug Printing Project
The "My Family" mug printing project is a great way to celebrate the children's families. Each child is given a drawing template on to which they draw a portrait of each of their family members, parents, brothers, sisters, grandparents etc. The templates are completely free form so the family members and their names are unique to every child. We can then take those family portraits and print them on separate mugs crediting the child as the artist. We charge only £4.00 (inc VAT) per printed mug and they can be sold to parents at £6.00 (inc VAT) each. This means that your PTA will generate a profit of £2.00 on every mug sold.
Our Process & Timescales
The process is incredibly simple and can create amazing profits for the PTA. Just follow these few simple steps:
Order your drawing templates/order forms by telephone on 01296 340 057 or request them online. We will then send these out to you by First Class Post within 48 hours.
Have your children design their "My Family" mugs on the supplied drawing templates. Send the completed drawings back to us to scan and create a personalised order form.
We then send the order forms back to you to distribute to parents.
Collect order forms and money in school before sending the orders back to us.
We will then print the mugs from the order forms and deliver them (by Courier) to the school along with our invoice.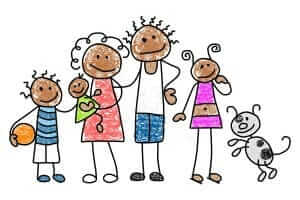 It takes us up to 2 weeks to print your mugs from receipt of orders and around one week to convert the drawings into order forms. Therefore you just need to send your artwork to us, 2 weeks in advance of when you want the mugs available in school.
Next Steps
If you are ready to participate in our mug printing project then ORDER YOUR DRAWING TEMPLATES TO GET STARTED. Alternatively if you want to find out more about our projects, prices and process then order a FREE mug printing brochure using the form at the top of this page. If you just have one or two questions about our mugs then why not just give us a call, we'll be happy to help.