Academic Year School Calendars
We have a whole library of fantastic designs to bring your children's drawings to life. Choose from any of the designs you can see on the right including paint slodges, pencils, doodles and more.  We also have a variety of calendar formats as not everyone wants the same thing.  All of our personalised school calendars are printed and typeset to order.  Therefore we can add pre-printed calendar entries specific to your school such as term dates, school trips and more.  This personalised approach also means we can make small tweaks and changes to any of our designs as we work with you to create the final calendar design.
Fundraising for secondary schools is often harder than for primary schools but school calendars are one fundraiser than can work really well. Many secondary schools have extremely talented artists and photographers amongst their students. We can take the artwork or photographs of your students and turn them into a fabulous school calendars that can be sold to parents.
Running a calendar project with us – How does it work?
A calendar project works through the following steps
YOU supply us with photographs, drawings, artwork or whatever you would like included in your calendar. This bit is entirely up to you, if you need help scanning drawings then we can do that for you.
Choose what style and format you would like for your calendar (see below). Our combination of five styles and three formats means you can choose from 15 DIFFERENT DESIGNS.
WE create a PDF proof of your calendar based on your choice of style and format. We can make as many alterations to this proof as you want until you are happy with the final layout.
WE create two hard copy calendars which we send to you, free of charge. You can then use these calendars to collect orders and payment from parents. We do this so the parents can see the calendars at first hand before ordering.
YOU place an order with us for the required number of calendars.
WE print your calendars and deliver them to the school. Payment is due immediately upon receipt of the final calendars.
Choose from any of 5 fabulous styles
Choose from any of the five fabulous styles shown on the right. We have a choice of
Paint Splodges
Alpabet Blocks
Picture Perfect
Coloured Pencils
Doodles
Each style gives a distinct look and feel to the calendar whilst incorporating the children's artwork or photographs supplied by you.
Choose from three different formats
Our calendars for schools are available in three different formats/sizes.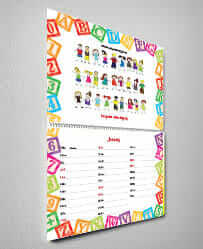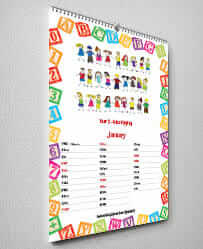 A4 Book Calendars. Each page is an A4 landscape sheet, they are wire bound in the centre and have a hole drilled in the top for hanging. When opened your children's artwork or photograph will show on the upper sheet and the calendar section on the lower sheet.
A3 Wall Calendar. Each page is an A3 portrait sheet, wire bound at the top with a hook for hanging. Your children's artwork and the calendar are shown on the same A3 sheet.
A4 Wall Calendar. Each page is an A4 portrait sheet, wire bound at the top with a hook for hanging. Your children's artwork and the calendar are shown on the same A4 sheet.
Pricing
We choose not to impose a minimum order quality on the calendars BUT any orders under 20 calendars will be charged for delivery at £8 in addition to the cost of the calendars. Orders in excess of 20 calendars are delivered free of charge to any mainland UK address.
For your convenience all of the prices below INCLUDE VAT at 20%.
| | | | | | |
| --- | --- | --- | --- | --- | --- |
| | 1-50 Calendars | 51-100 Calendars | 101-150 Calendars | 151-200 Calendars | 200+ Calendars |
| A4 Book Calendar | £6.00 each | £5.25 each | £4.00 each | £3.75 each | £3.25 each |
| A3 Wall Calendar | £6.00 each | £5.25 each | £4.00 each | £3.75 each | £3.25 each |
| A4 Wall Calendar | £5.20 each | £4.50 each | £3.25 each | £3.00 each | £2.80 each |
Your invoice will be sent along with your calendar for payment upon receipt. You will have already collected money and ordered from parents at this point, so no money is required upfront to run this project.
Paper Quality & Finish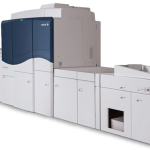 All of our calendars are printed in digitally in full colour on a premium 150gsm Silk paper with a 300gsm Silk card cover. They are printed on our industry leading digital colour press. Every calendar is individually inspected upon completion to ensure top quality calendars every time.
Delivery Times
We would normally expect to be able to produce calendars within around one week HOWEVER in October and November we can be extremely busy with Christmas card orders in which case production times are likely to be closer to TWO WEEKS. In all cases we will produce your order as quickly as reasonably possible.
Enquire about our School Calendars TODAY!