We know that as a PTA you can be bombarded with a variety of different options for raising money from summer fayres to online raffles and lotteries.  However one of the questions we get asked alot is "which School Fundraising Ideas make the most money?".  Well to best answer that question we thought we would share with you some data from our latest (Christmas 2020) Christmas Card Fundraising Project so you can see how much money other PTAs are raising with us.
Now obviously larger schools are most likely to be able to raise the most money, but even a modestly sized school can raise a surprising about of cash through a online Christmas card project.  The graph belows shows what percentage of our 2020 clients made varying amount of profit on their projects.  We have only included the online Christmas projects because that's the data we have to hand AND because we know that ONLINE CHRISTMAS PROJECTS make more money than traditional paper based projects.  If you're not already running an online Christmas card project then you really do need to consider moving over.  You almost certainly WILL make more money for your PTA.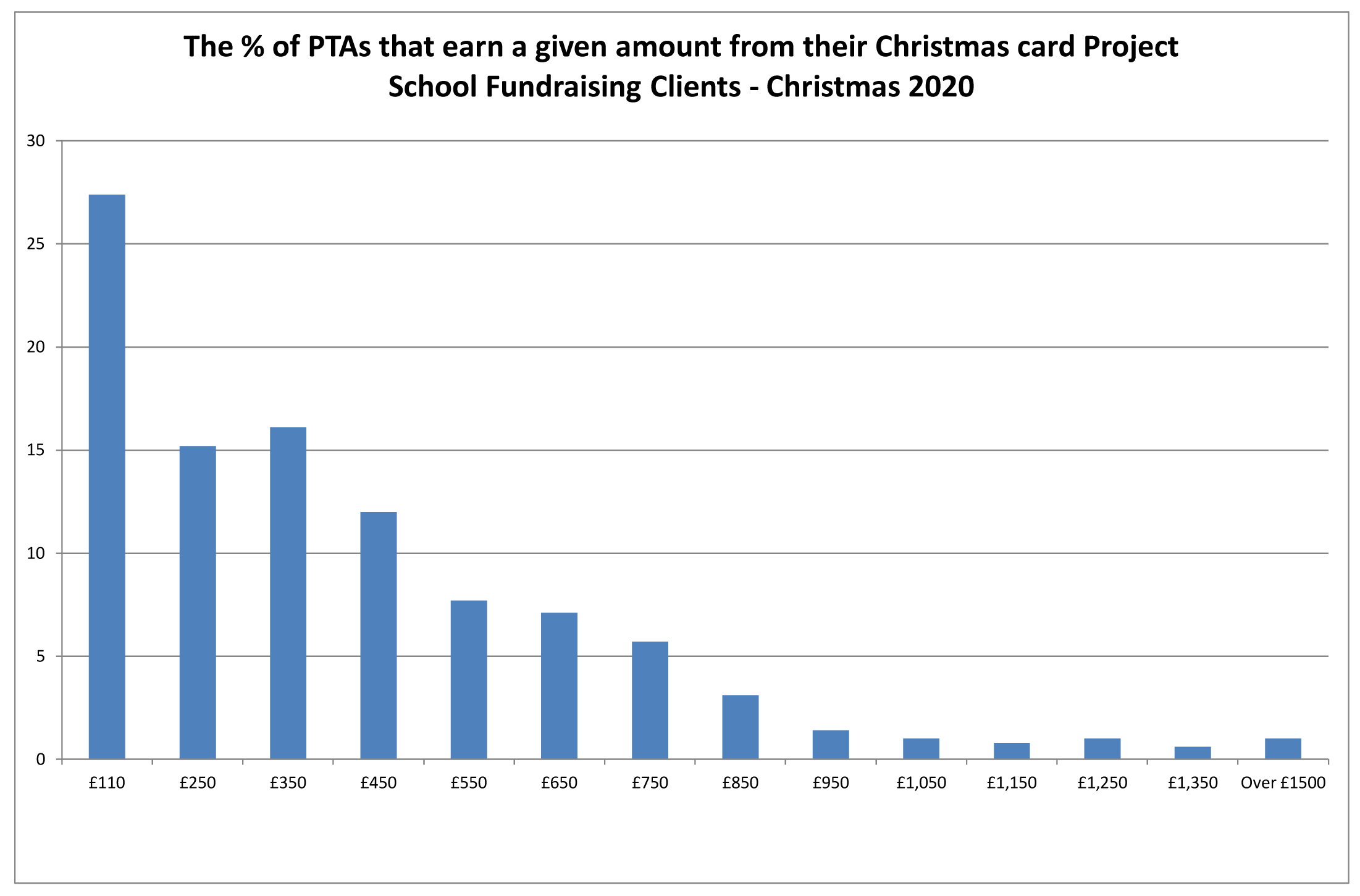 What can we learn from this?
The above graph shows what percentage of our 2020 clients earned the average amounts shown at the bottom of the graph.  Our data shows some large amounts of money being raised by school PTAs with our Christmas Project. Some key points to bring out of the data include:
Around 75% of schools raised more than £200 from their card project.
Over 50% of the schools and PTAs that participated raised over £400.
Around 5% of schools raised over £1,000 from this project, with the average in that group being around £1,300
As you can see Christmas card fundraising projects are a significant source of fundraising for schools.  The amounts being raised range from around £100 to in excess of £2,000.  The use of an online Christmas card project means that all orders and payments can be handled by us, making these now a very profitable and low administration project.  Also remember that NOT ALL CHRISTMAS CARD PROJECTS ARE CREATED EQUAL.  At School Fundraising we believe in putting our clients firmly in control of their own projects, which means you can set your own prices for parents.  Some providers set prices with as little as £1 from each item being received by the school, whereas the amounts earned on our products are often twice that amount!
Running a Christmas Project with School Fundraising
Our mission at School Fundraising is to make fundraising as easy and profitable as possible for schools and PTAs just like yours.  Parents love our projects and they are designed to be simple to administer and highly profitable for PTAs.  Please browse our website to find out more about our range of fundraising projects for schools.  When you are ready to get started, simply register an account to create your first fundraising project.  If you're not happy with your current provider of Christmas cards or you're earning less than you would like then why not give us a try, we're sure you'll like what you see!